Resources
---
Carbon Confidence: Our Sustainability Calculator
---
The Paris Agreement ties 193 countries (including the EU) to a net zero emissions target by 2050. More than 7,000 companies have joined the Race to Zero, an alliance to drive climate change from a grassroots operational perspective. These numbers demonstrate lofty commitments and targets, but drilling down into the practicality of what this means for businesses now, and as inevitable policy changes take shape in the future, requires a more systematic, nuanced approach. Concise carbon calculations and sustainability reporting are becoming the daily reality for organisations all over the globe, which was the driving force behind our newest CAPEXinsights feature: the Sustainability Calculator.
Responsible for the future product direction of CAPEXinsights, Product Manager Stuart Escott leads the development of features based on what organisations need to manage their capital portfolios. The latest feature - the Sustainability Calculator - is designed to quantify the environmental footprints and handprints of capital projects, and Stuart explains why it's a vital piece of the capital portfolio puzzle.
"Our clients not only need to align with carbon-reduction policies and market requirements, they genuinely want to understand how to be better"
Why a Sustainability Calculator?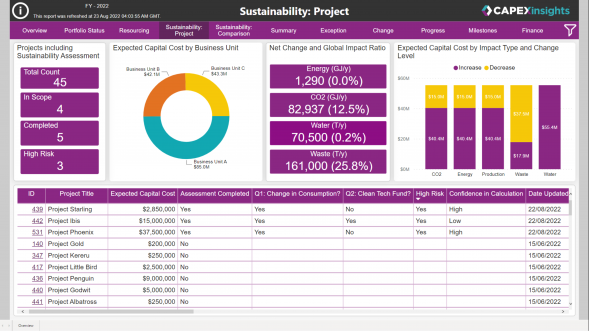 When we looked across the market, one of the greatest challenges that surfaced was that every business has a wide range of sustainability influences that need assessing - from supply chain impacts to geographic variances and even project-specific factors.
One of the core drivers behind every CAPEXinsights product development decision is retiring as many needless processes as possible in favour of systemised data capture.
The Sustainability Calculator tool has been built into the system to capture and assess the environmental impact of projects across the portfolio, removing reliance on manual collation and aggregation of data across multiple platforms and disciplines.
How does it work?
The CAPEXinsights Sustainability Calculator progressively guides engineers and project managers step-by-step through the process of completing a sustainability assessment for their project.
Intuitive assessment - you are prompted to input data which is measured against pre-configured parameters to identify variance at the appropriate phase of the project lifecycle.
Automatic risk triggers - outputs are automatically calculated based on a set of controlled and fully auditable carbon factors, and relevant people are notified if risks become too great or are outliers.
Flexibility and scalability - responding to varying impacts of international supply chains, the Sustainability Calculator is dynamic in its ability to calculate across multiple dimensions, and scalable to add new impacts or carbon measurements in future as practice evolves.
Reporting and verification - the fully configurable solution aggregates data in one place to create a holistic approach to risk throughout projects and across the entire portfolio to support continuous learning, quality control and executive decision making.
How does it benefit your business?
It can be tremendously difficult for businesses to get an accurate picture of their ecological impact. The intuitive Sustainability Calculator plays a critical role in early identification of the inputs required through clear pre-screen questions, and appropriate configuration to calculate the differing impacts across multiple geographies with varying carbon taxes and auditing requirements.
From a project engineering perspective, the Sustainability Calculator delivers a guided and simple assessment that reduces double-entry of data, and simplifies reporting up the chain.
For finance teams, especially across regions where carbon tax is applied, the accuracy of information is key, with configurable reporting, real-time data insights and exception reporting.
At a portfolio level, managers have the same fundamental benefit that CAPEXinsights delivers across all its functions - transparency. This visibility across the portfolio creates perspective and the ability to hone resources.
For executives, the solution acts as an early warning system, with the trigger alerts and robust risk management tools ensuring oversight from a project and portfolio lens across different regions and areas of the business.
Calculating for the future
As the world accelerates towards a low-carbon future, knowing where you stand is crucial. Every business needs to understand their environmental impact, and pivotal to that understanding is capturing the right data to generate actionable insights at the right time and place.
For more information on how our CAPEXinsights Sustainability Calculator can help future-proof your business and help you simplify the complex, reach out to us here.
---
Related