Resources
---
Business process management is a key success driver
---
In manufacturing, companies spend up to 10% of their revenue on capital projects, constituting hundreds of millions of dollars. With a project portfolio this size, you may be surprised to find that many large enterprise organisations rely on a mix of PowerPoint, Word and Excel to manage their portfolio and objectives. This is like using a cable tie to guard priceless artworks.
Operating in dynamic environments means a lack of guidance and transparency, as well as disparate systems, are a recipe for business process breakdowns as the right people simply don't have the visibility to respond to issues, disruption or opportunities.
Daan Gooskens, Account Director for CAPEXinsights, talks about the importance of pinpointing the exact business processes that need to be addressed to achieve optimal capital project success.
"It's often not one big-ticket item that needs rectifying, rather, it's a mass of moving targets throughout the business process that ultimately impact organisational outcomes"
Complex business processes: how do project failures happen?

When you drill down into capital project business process management, several issues consistently surface. The first is the instance of small projects that influence a portfolio budget - many of them unaccounted for in portfolio planning. They are often too small to warrant dedicated project management, but when it adds up to 5% or 10% of the portfolio budget, it leaves millions of dollars left to potential mismanagement and the organisation vulnerable to enterprise risk due to human error.
This isn't a roadblock, as such, yet it's almost guaranteed to set up organisations for those cost blow-out ratios. It's absolutely vital to ensure the right business processes are in place to provide governance support to teams at every stage of the project lifecycle, and if this isn't in place, there is little opportunity to mitigate risks before they become critical. One way to improve business process management is to have discretionary funds available for small projects to support business operations as they arise.
Another challenge is that portfolio managers simply can't be everywhere at every moment in time. From a day-to-day capital project delivery perspective, the management of processes is being done at ground level. This raises numerous challenges, not least relying on varied experience levels of contributors to interpret regulatory compliance requirements for diverse project needs.
Process execution is directly related to human involvement. Those 'on the tools' are expected to carry out the core checks and balances rather than rely on a management process guided by task management and digital transformation.
In fact, for many smaller, sometimes essential or urgent, projects, the site engineers are best placed to identify and manage the work. However, those individuals are not exposed to capital project delivery often, so hunting down the right tools and guidance can be time-consuming, and what might seem like a simple process to someone inside business processes every day can generate the potential for missed steps in process efficiency.
Lastly, there are usually so many different business process management systems for different purposes, and they don't always talk. Fragmentation of information can pose many challenges for organisations.
As a portfolio manager, this can mean missing critical information if it's not submitted to the right business process management system, and as a project manager, it creates complexity in accessing information, applying for approvals, and keeping all project elements on track.
When it comes to capital project challenges and efficient business processes, each one of these adds up, so what's the solution?
When you have the right business processes, the rest falls into place.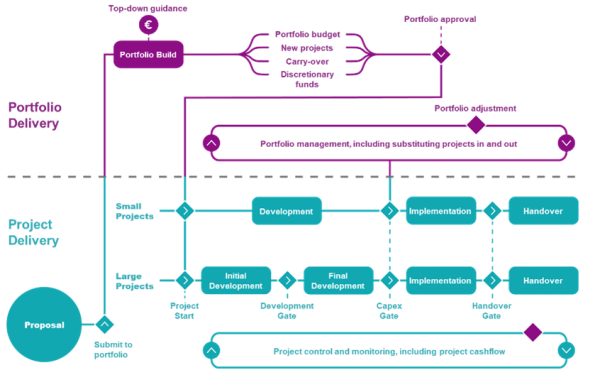 The bottom line is transparency. From a portfolio perspective, understanding in real-time what is happening and where, is core to successful business improvement and capital project portfolio outcomes.
Having transparency across project delivery, including hurdles and implementation, enables insights to successfully build and manage a portfolio, and to optimise the projects in the portfolio for greater business value.
Traditionally, manual reporting and physical monthly meetings between portfolio managers and project managers or engineers play important roles in allowing managers to make portfolio-wide decisions and adjustments to respond to anything from supply-chain disruptions to stage-gate approvals and risk intervention.
The entire process is designed to uncover insights for continuous improvement and cost-savings, but often becomes second fiddle to operational efficiency. Improving business processes isn't just a succession of repetitive tasks, it is about complex process mapping to align processes with human-centric needs for better workflow management.
When teams can access a digital dashboard of the portfolio with real-time insights, you can see what's happening at any point in time through dynamic reporting. This single source of truth provides portfolio-wide visibility and enables data-driven decision-making and proactive risk management, positioning managers to focus their time and energy into what needs it the most.
But does transparency take away from trust?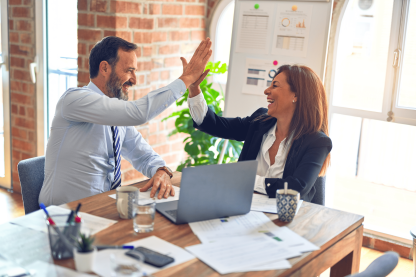 Far from the 'Big Brother is watching you' mentality, enabling transparency across capital projects can be empowering at all levels.
With less reliance on compiling reports or fronting up to scheduled meetings armed with reams of information, project managers can engage in fluid, two-way information exchanges, providing them with the information and guidance they need at any time, and allowing portfolio managers to add value only where it's needed.
Reliance on digital connection is greater than ever, and providing a platform to empower users at all levels to follow the right processes for their project lifecycle is extremely powerful. Having a system that provides a holistic view places value on people's time from a top-down and bottom-up perspective.
The right projects, delivered right - a symbiotic approach
A successful capital delivery process looks through both project and portfolio lenses. It's not only about doing the right projects but doing those projects right, which is where efficient business process management comes in.
The key is to streamline business processes with a holistic system in place - which is what CAPEXinsights was designed for. Our capital project portfolio management solution is the business process management software that you need for automating business processes for standardised efficiency. Powered by Beca's 100 year project management and engineering legacy combined with our deep digital capability – it is a complete capital project and portfolio solution.
For more information on how CAPEXinsights can simplify your business processes and help you achieve your capital project and portfolio potential, please don't hesitate to reach out to us.
---
Related