Putting the power back in your hands.
The right tools at the right time.
CAPEXinsights is a comprehensive portfolio management application. It helps users make the right decisions with the right processes to deliver better capital project results. CAPEXinsights brings processes to life, including cashflow forecasting, risk management, approvals, and individual task delegation.
Project and portfolio management.
See the big picture with CAPEXinsights. Quickly understand and assess the strategic importance of every project from every angle, make informed decisions, while sustaining your overall portfolio performance.
Economic, strategic, environmental, safety and human impacts are easily accessed through dual project and portfolio views. CAPEXinsights helps organisations stay within resource constraints, manage the detail and achieve strategic alignment - all without a spreadsheet in sight.
Lifecycle guidance.
CAPEXinsights dynamically assesses each project's complexity then builds a specific and relevant life cycle. Flexible lifecycle guidance ensures relevant gates, activities and control / monitoring tasks are completed without overwhelming the user.
The relevant, yet consistent, project build process leads to more efficient project management, more accurate cashflow forecasting and tighter risk control, all maximising project potential.
Real-time reports and
informative dashboards.
CAPEXinsights collates, highlights and intuitively presents all relevant information needed to quickly make the best decisions.
Intuitive dashboards deliver insights direct from the projects through a range of out-of-the-box and custom views. Project managers are empowered with quality information, at the right time, to make early interventions, improve profitability, mitigate risk and allocate resources better.
Highly configurable.
CAPEXinsights is designed to take your processes, make them easy to understand, join them with best practise and create a highly usable tool that helps improve commercial outcomes with greater investment certainty.
Company-specific governance requirements and processes such as business objectives, approval flows, risk tolerance profiles, sustainability impact and success factors, system integrations and more are all incorporated through configurations and integrations resulting in a perfect-fit solution.
"CAPEXinsights greatly enhances our Capital Project and Risk Management processes. It supports our engineers to follow a 'fit for purpose' process across the organisation. We are already learning about what works and what doesn't."

---

Pavankumar HL

Engineering Director (Global) - Robotics and Automation, Unilever
Consistent outcomes, flexible approaches.
Risk management.
Developed over many years in a real world environment CAPEXinsights minimises risk through robust guidelines and complete transparency across every project at every level.
Risk classifications, red flag questions, risk registers and at-a-glance reports are present throughout every stage of a project and portfolio allowing critical decisions to be made with confidence.
Activity and
milestone tracking.
CAPEXinsights provides activity and milestone tracking, configured to align with your business governance model. Specify your project type classification and track vital milestones with intelligent gate control.
Project template management.
CAPEXinsights automates much of the tedious yet vital work of project document management. The central repository provides full visibility for audit and easy-access purposes, improving project efficiency and wider educational benefit.
Seamless integration with other systems powers productivity thanks to the unified governance created by a central source of truth.
Post-project analysis.
Use data, drive decisions. CAPEXinsights provides the tools and insights to conduct robust post-project reviews, then embed those lessons into the system for compound improvements.
CAPEXinsights is the single source of truth that supports gap analysis and EBIT reviews to be held through the lens of your portfolio. Continually review and improve what worked, what didn't and what was delivered versus promised. Maintain your capital portfolio while continuously improving overall project management maturity and resulting business outcomes.
How much are capital project and portfolio inefficiencies costing you?
Unnecessary costs. Value Erosion. Lost opportunity. CAPEXinsights helps you solve these problems. But what exactly is that worth? Get an indication of how much capital portfolio inefficiencies are costing you with this detailed guide based on our actual observation and experience.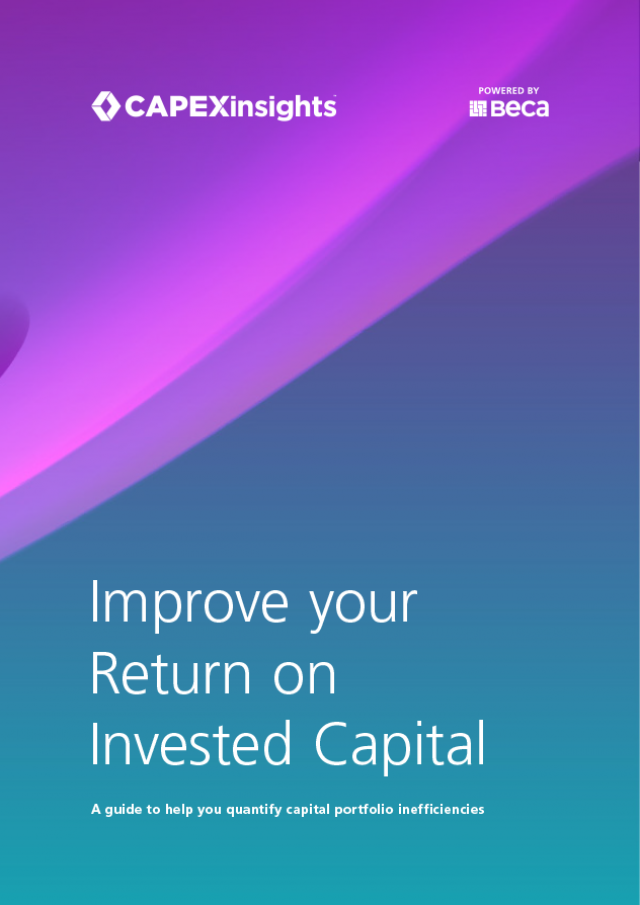 Optimise your commercial outcomes
with CAPEXinsights.
Capital project delivery made better.